Location of Clock in the Historic District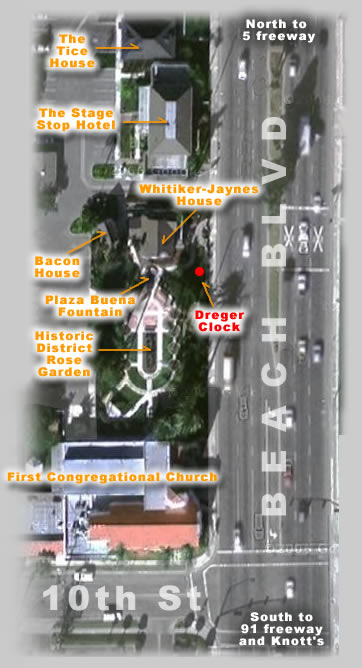 The Buena park Historical District
The Dreger Clock has been placed in a promenant location in the Buena Park Historical District. It is in front of the Whitaker/Jaynes house visiable from Beach Blvd. as indicated by the red dot on the map.

The clock's location is along Beach Blvd, in front of the Whitiker-Jaynes House, which is the historic home of the City's Co-founder Andrew W. Whitiker, brother of founder James A. Whitiker. The house was later owned by Issac D. Jaynes, another promenant citzen of Buena Park, a land developer who was later appointed the city's postmaster in 1922. Today the Whitiker-Jaynes House serves as the City's historical museum.

The historic park is located along Beach Blvd, south of the 5 freeway and north of the 91 near 10th street -- across the street from City Hall.